As far as mountain biking goes, there are a few different ways that you can enjoy this remarkable sport. However, for our money, we love cross-country (XC) the most. While downhill or trail riding can be fun, cross-country pushes us to our limits and shows us what we're made of along the way.
If you're serious about getting into XC riding, then you want to have a high-quality ride to do it. Today we're going to be looking at the best XC mountain bikes under $3000. In this price range, you may be looking to begin cross country mountain bike racing, or just looking to have the best weekend ride you're money can buy. Sure, you could drop even more for a high-end model, but we believe that the bikes we're going to show you today are perfect for almost any rider.
Whether you're just beginning your cross-country experience or you're looking to upgrade your mountain bike, we will not only show you the best models, but we'll highlight the crucial elements to pay attention to as well.
Strap in and let's go!
---
How to Choose a Cross-Country Mountain Bike
Frame
For rough and tumble mountain biking, a sturdy, well-built frame is going to be your best bet because you are taking on rough terrain. However, when riding cross-country, you don't want to be working with a massive mountain bike. Instead, you want something durable yet lightweight.
Compared to other kinds of mountain bikes, XC models are the lightest of the bunch. In fact, if you carried them side by side, you would be amazed by how well you can lift the XC.
To keep the frame as light as possible without making it too weak, there are a few different options from which to choose. Let's break them down.
Aluminum
Overall, you're going to get a lot of mileage out of an aluminum frame. This material is robust yet much lighter than steel, making it an ideal choice for many bikers. Also, price-wise, you can save a lot of money this way. Aluminum is still one of the cheapest metals around (thanks to its endless recyclability), so you can stay well under $3000 while getting a high-quality ride.
Carbon Fiber
If you want something a bit stronger than aluminum but still just as lightweight, then carbon fiber is incredible. Many pro bikers like this material a lot because it can take more abuse without denting or getting beat up. Even though cross-country riding isn't as intense as other forms of mountain biking, it helps to have some extra durability. Nonetheless, this is a more expensive option, so keep that in mind.
Alloy
Metal alloys can provide the best of both worlds, offering durability and less weight compared to straight steel. While alloy frames are not as light as carbon fiber or aluminum, they can last a bit longer overall. Another thing to consider is that they are not as popular as other materials, so they can be harder to find.
---
Weight
As we've mentioned, cross-country riding can be influenced heavily by how much your bike weighs. Because you're accelerating a lot (both up and down hills), and you're covering so many miles, you need a ride that won't slow you down.
Most XC bikes are already light, but if you're serious about getting better, you want to go as lean as possible. For the most part, these models are going to be around 25 pounds, but you want to aim for that target or below if possible.
Some things that can affect weight include:
Frame materials
Suspension type (full is heavier than hardtail)
Tires
Overall, you will want to shave as many ounces off of your bike as you can if you're going to make your ride easier. Even a pound difference can help you retain more stamina in the long term, so don't assume that a 24 lb and a 25 lb bike are "basically the same."
---
Suspension – Hardtail vs. Full
Beyond the frame, the suspension is probably the most crucial to your needs. Although the terrain you'll be experiencing shouldn't be too rough, that doesn't mean that you won't encounter pockets of resistance that can create problems.
If you're not familiar with these two types, here is a brief overview.
Hardtail: the suspension is only in the front, while the rear tire stays rigid
Full: you have a suspension fork on both ends, allowing you to move more smoothly over obstacles
Because having the extra fork can add weight to your bike, it's essential to determine if it's necessary. For our money, we believe that hardtails are the better option overall because it's easier for you to adapt to the terrain than it is to the bike.
However, if you know that you're going to be hitting some rough patches, or you are doing to be doing a lot of downhill riding (full suspension is best for that), then you may want the additional support.
Some downsides of full suspension include more maintenance, higher costs, and more work on flat surfaces and hills. If those sound like they could be issues for you, then go with a hardtail. You may get some bumps and bruises along the way, but it can make a lot more sense in the end.
---
Wheel Size
Finally, your wheels are going to add some substantial power and performance to your riding experience, so you want to choose carefully. There are three primary sizes to choose from, so let's break them down.
26 inches: this size is slowly being phased out, but that doesn't mean that it's inferior. The smaller wheel means less weight, but you do get less traction than you would with something more substantial. Also, in a few years, you may not be able to find parts for these wheels, so keep that in mind.
27.5 inches: this is becoming the new standard, so you may be forced to buy a bike with these wheels. They are nimble and have good handling, so it's not like you're settling or anything.
29 inches: if you want as much traction as possible and you don't care about agility or weight, then this can be a better option. However, for cross-country, you have to have a good reason to want wheels this large.
---
Recommended XC Mountain Bikes Under $2000
SANTA CRUZ BICYCLES TALLBOY 29 R
If you love mountain biking, then you are probably familiar with this California-based brand. Santa Cruz Bicycles is one of the top manufacturers of high-quality mountain bikes, and the Tallboy is one of the most popular models that they offer.
Technically speaking, this ride is built more for trail riding than cross-country, but you can use it for both. The durability and reliability of this model make it versatile and allows you to take it on all of your biking journeys. Essentially, if you love to ride trails but you also dabble in XC, you don't have to buy two bikes to do it.
What makes the Tallboy such an effective mountain bike is the frame. It's built to put you in a better riding position so that you can get more power and control with each pedal pump. It comes with full VPP suspension (proprietary for Santa Cruz), which is designed to help you be fast and aggressive on the trail.
What we also like about this bike is that you can change the wheels as necessary. It's built to handle 29-inch tires, but you can adjust the suspension to accept 27.5-inch models instead. Like we said, this bike is perfect for those who like to do a little bit of trail and XC riding overall.
Pros
Durable and lightweight aluminum frame
Disc brakes for better stopping power
High-traction 29-inch wheels
Can convert to 27.5-inch if necessary
74-degree seat tube angle for better positioning
Durable and reliable drivetrain
Fast and aggressive full VPP suspension
Cons
More expensive than other models
Not as fast or agile as other units
Con3
---
YETI CYCLES ASR Beti 29 GX Eagle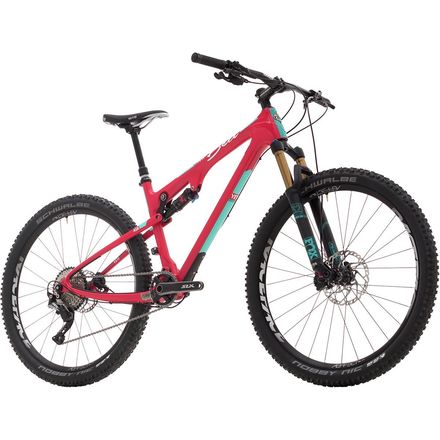 Yeti Cycles ASR Beti 29 GX Eagle Complete Mountain Bike
For the most part, professional-grade cross-country bikes are going to come with full suspensions. Even though we believe that hardtails can be better overall, you get a lot more agility and control when you have two forks on your ride.
Thankfully, models like the ASR Beti from Yeti provide you with a lighter weight and the added smoothness of the ride. Compared to other cross-country models, this is one of the lightest options you can find. In fact, most sizes can be under 25 pounds.
The reason that the ASR Beti can be this way is that it uses a single pivot suspension system. This isn't as complex as something like a VPP model, so it shaves a lot of weight from the overall frame. Best of all, it doesn't reduce your power or performance much, so you can still get a lot of mileage out of it. Only the most professional XC riders may disapprove of this setup, so it should be more than suitable for your needs.
Because this is a certified cross-country mountain bike, the ASR Beti is designed to take on all kinds of terrains. It works well on uphill with its expertly designed tube angle, and the suspension helps you maintain control when coming back down. There's a lot to love with this ride.
Pros
Durable carbon fiber frame
Full single pivot suspension
Rugged hydraulic disc brakes
29-inch tires
Four inches of smooth give
Lighter than other full suspension models
Cons
Not as much pedal support on inclines
---
JULIANA JOPLIN 2.0 27.5+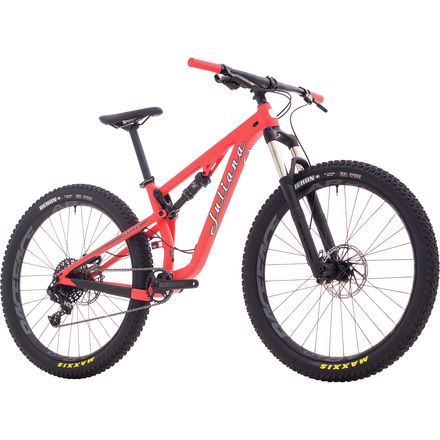 Juliana Joplin 2.0 27.5+ D Complete Mountain Bike – 2018
Technically speaking, this is a girl's bike. However, that doesn't mean that you have to feel discriminated against. Anyone can ride the Juliana Joplin, but this model was tailor-made for riders who are more on the petite side. If you're a burly biker, then you won't be able to take advantage of the subtle nuances that this mountain bike has to offer.
Overall, this model is designed for both trail and XC riding. The VPP suspension is ideal for both kinds of terrain, although it is slightly better suited for tumbles and obstacles than it is for hitting straightaways. Thus, if you are a lightweight rider and you're looking for a fantastic all-around bike, then this could be your calling.
The reason that the Juliana Joplin is perfect for those on the smaller end of the scale is that it has a much more responsive suspension fork. Rather than absorbing the impact of both the trail and the rider's body, this one is a little more sensitive so that you can maintain control without having to muscle through each bump and dip in the road.
Keeping with its demure stature, this bike does come with 27.5-inch wheels, although it also has a flip chip that allows you to upgrade to 29ers if you prefer. Thankfully, it's dealer's choice on these, so don't feel like you are missing out by choosing one or the other. They're both perfect for this ride.
Pros
Durable aluminum frame
VPP full suspension
Hydraulic disc brakes
27.5-inch tires
Works for trail and XC riding
Shock tune on the VPP for lighter riders
Versatile 1×11 drivetrain
Cons
Not made for heavier riders
Not as fast as other XC models
---
NINER JET 9 1-STAR NX1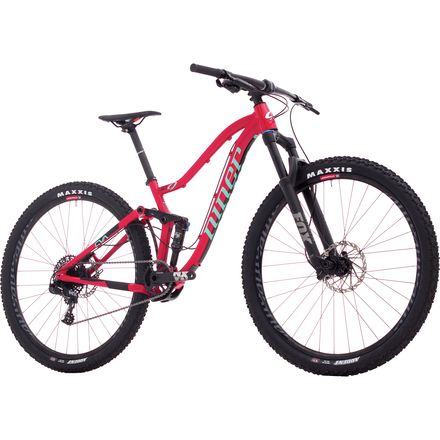 Niner Jet 9 1-Star NX1 Complete Bike – 2018
When picking out the best mountain bike, you have to pay attention to both the kind of riding you plan on doing, as well as what you are best at on the trail. For example, if you can muscle your way through uphill battles, then you might prefer a bike that makes downhill much easier for you. Conversely, you may like having the extra power for inclines, even though you can master them no matter what.
With the Niner NX1, you get a trail bike that's well suited for both up and downhill traveling. It offers the best of both worlds, thanks to a rugged and responsive suspension system that gives you control and performance where and when you need it most.
Yes, this is technically another trail bike, but it can work for casual XC riders as well. You will have to contend with a heavier frame (particularly with the 29-inch wheels), but it will offer a lot of benefits when you are traveling over that rough terrain. Also, if your route does have any hills, then you will love how the NX1 handles them with aplomb.
The Constant Varying Arc (CVA) suspension is also easier to maintain than a high-end VPP. It's kind of an in-between, offering more travel and absorption than a single pivot, but not as many moving parts as a VPP. As a result, you can keep this bike in peak condition without worrying about stuff breaking down.
Pros
Rugged alloy frame
Durable CVA suspension
Hydraulic disc brakes for better stopping power
29-inch wheels
CVA is easier to maintain
Compatible with 27.5-inch wheels if necessary
Cons
Designed more for trail riding
---
Cannondale Habit AL 4
Cannondale Habit AL 4 27.5 Bike – 2018
Our final model is this XC mountain bike from Cannondale. The Habit AL is a robust and reliable full-suspension unit, making it an ideal choice for all kinds of XC riders. It has a durable alloy frame that keeps it from breaking down, but it's still lightweight enough to allow you to maneuver easily.
One thing that we really like about this particular bike is the trail-specific geometry. It's angled in such a way that you can get more power out of each pedal pump on hills, but you don't lose stability when coming back down. It offers superior handling and performance in all conditions, making it a viable option for both beginners and veterans.
Another unique feature is the zero-pivot seat. It still moves up and down to give you greater comfort on rough trails, but it won't slip from side to side, ensuring that you can maintain as much power and control as possible.
Overall, this is a fantastic bike that will work better for XC riding than some of the other trail models we've seen so far. It's not exactly professional-grade, but it will deliver some spectacular handling and it won't let you down when you're in the middle of a marathon. It's a perfect introduction to the sport.
Pros
Durable alloy frame
Full suspension bike
Trail-specific geometry for better handling
Zero-pivot seat is more comfortable
22 gears for easier riding
27.5-inch wheels
Hydraulic disc brakes
Cons
Heavier than other models at 30 pounds
---
Final Verdict
We've seen some incredible mountain bikes on this list, but if we had to narrow it down, we would say that the Yeti ASR Beti 29 is our top pick. The reason we like this one over the rest is that it's both reliable and lightweight. If XC riding is your passion, you will appreciate the attention to detail that Yeti has provided with this bicycle, and you will love the handling it offers as well.
If you want more of a mixed terrain option, then the Santa Cruz Tallboy is probably going to be your best bet. Yes, it's built to tackle rough trails more than anything, but that's part of what makes it so ideal for all kinds of riding.
---